Warbler Walk With Kathy Calvert
Join MBP for a great opportunity to learn in the field from one of Maryland's top birders!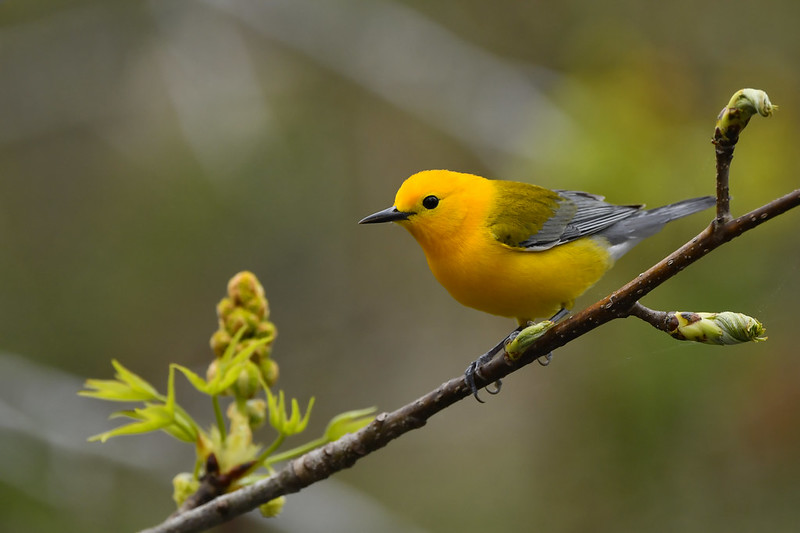 On Saturday, April 23, Kathy Calvert will be leading a Warbler Walk along the C&O Canal. Late April is the best time in Maryland to view migrating neotropical warblers. The Potomac River acts like a super corridor for migrating birds, and there is no better place to go birding during the spring. Along the C&O Canal it is not unusual to see over 15 species of warbler in one morning! Of course, we will be looking for other stunners like Scarlet Tanagers and Yellow-throated Vireos.
Kathy Calvert is one of Maryland's top birders. She has been a supporter of the Maryland Biodiversity Project since we began, and we are super excited that she is leading this trip for us.
This MBP field trip is going to be limited to 12 people. Spaces are sure to fill FAST, so please sign up as soon as possible! This birding field trip is open to both beginner and experienced birders.
Participants will meet at the Lander Boat Ramp Parking Area on the C&O Canal in Frederick County (coords: 39.305426, -77.560039) at 7am. Once all the participants have arrived, we will car pool to Point of Rocks (39.273171, -77.541250). From Point of Rocks we will walk back to the Lander Boat Ramp birding along the canal.
This is a half day trip. The towpath is typically dry made with crushed rock. Bathrooms are available at both ends of the walk, and in the middle of the walk. Please bring your own water and snacks. Binoculars are a must.
Because we are very serious about the safety of our trip participants and trip leaders, this field trip is restricted to only those who are fully vaccinated. Even though it's a short ride, we ask that when carpooling between the Lander Boat Ramp and Point of Rocks that people wear face masks if riding in other people's cars.
Field Trip Details
Please email Jim Brighton at jimbrighton3 at gmail dot com
Date
Saturday, April 23, 2022
Time
7am
Location
Meet at Lander Boat Ramp Parking Area on the C&O Canal in Frederick County
(GPS Coordinates: 39.305426, -77.560039)

Carpool to Point of Rocks
(GPS Coordinates: 39.273171, -77.541250)

Maximum number of participants
12
Timeframe
Half Day Trip, open-ended
Amenities
Public bathrooms (middle/end of walks)
COVID-19 related protocols
Vaccinated only – Wear face masks if riding in other people's cars.
Trip leader notes
Bring your own water and snacks. Binoculars are a must.
Trip leader(s)
Jim Brighton
Lander Boat Ramp Parking Area on the C&O Canal in Frederick County Map
(GPS Coordinates: 39.305426, -77.560039)
Point of Rocks Map
(GPS Coordinates: 39.273171, -77.541250)